This time last year my Mum got herself a new puppy - a cute, blacker than black, Cockerpoo (or Spoodle if you prefer the Australian version).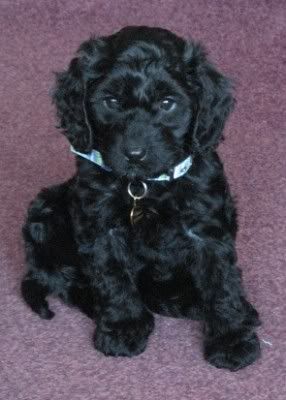 She was nigh on impossible to photograph unless asleep and even then she was so black that my camera couldn't capture her soft curly fur. As she's got older some brown has crept in amongst the black but she hasn't got any easier to capture on film because she is so bouncy, so fast and so keen to play. I tried to get some first "anniversary" shots of her last week and not a single one is really worthy of the mantelpiece! In the end I decided to make a page with the photos anyway - after all they still show that she is bouncy, fast and keen to play :D
I used this week's sketch (#2.03) from
Sketchy Thursdays
. I'm not sure I will ever do a seed bead border again - it took
forever
despite having pre-made the holes with my sewing machine. Good to use up some patterned paper scraps though.
In the mean time, all hints and tips for photographing mad, bouncy, black dogs gratefully received.