Nope, not a newspaper, it's this month's kit-to-copy from the
Counterfeit Kit Challenge Blog
. The challenge from the ladies at the CKCB is simple: using your own personal Mount Stashmore, put together a box of goodies based on the featured monthly kit. Fill in any gaps with substitutions, something home made or the odd purchase. Then use it!
"The Telltale Heart"
What a great way to make room in your scrapping space without making room in your purse! I've been itching to join in with the second ever Counterfeit Kit since the beginning of the month,
but
the kit to be copied isn't announced until the 5th!
This month the kit is from
Scraps of Darkness
and, being close to Valentine's, the kit is
full
of lush double-sided papers, with lots of hearts, flowers and bling and set against bold, black extras. There are also separate cardstock, embellishment and colouring add-ons.
Now I'm just not a hearts and flowers sort of girl, and I don't have a lot of red papers, so I had to change direction in terms of colour. I tried to stay true to the ornate damask patterns and started filling a pizza box with bits and pieces from
deeeeep
in my cupboards and drawers: the poemstones have been languishing for over 5 years and may finally see some use!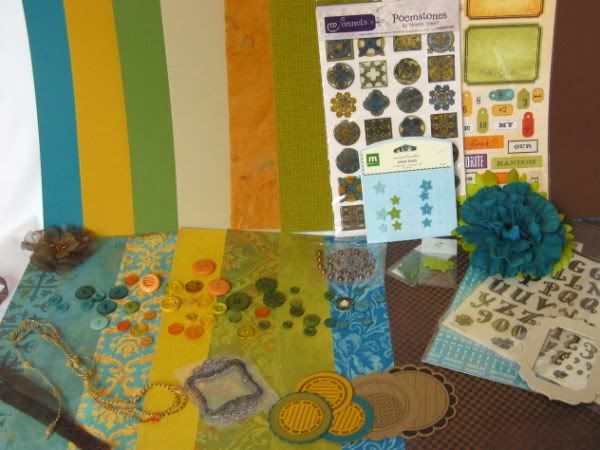 Never having subscribed to a monthly kit, I'm not sure what quantities are normal - I guess it depends upon what you pay - but this kit had 9 double-sided papers and 10 sheets of cardstock! I didn't go quite that far, but have included the following:
Cardstock: 1½ Bazzill Blue Calypso, 2 Bazzill Curry Spice, 2 beige, 2 green, 2 Coredinations brown
Papers:
1 Ottoman, 1⅔ Feuillage, ⅔ Chinoiserie Baroque (all daisy d's)
1 double-sided Crate Paper Ripple (green ogees on the other side)
1 Bagatelle Toile, 2 Loden (all daisy d's)
1 turquoise iris patterned paper
1 double-sided Basic Grey Hercules (multi-striped on the other side)
1 orange hand-made sheet
1 green textured sheet
Embellishments:
1 pack CI Poemstones (unopened since 2006!),
½ pack MM velvet brads,
1 pack daisy d's diecuts
Home-made organza flower
Pearl swirl
Small green flowers
Large flowers (soon to be
de
constructed)
Selection of buttons
1 pack Cosmo Cricket Tiny Type alphas
⅔ pack Sticker Studio alphas
Chip frame
Brown swirly organza ribbon
Multi-coloured knotty fibre
Prima frame stamp
3 home-made journalling spots
5 Jilly Bean Soup journalling sprouts
I don't have very much bling, but the great thing about the CKCB girls is that they want us to
make do and mend
, supplying links to all sorts of tutorials for reproducing various kit items. Last month there was a tutorial or two on making paper notions and stamping doilies; this month we've been treated to how-to posts about faux-metal frames and pearl flourishes using dimensional paints. Somewhere I have a hat pin to decorate and I'm looking for a suitable Bingo card to print out too.
In the spirit of a
quality
kit, allow me to present my add-on extras (at
NO
extra cost!) set against the reverse sides of those two sheets of double-sided papers:
MM Funky chocolate clear alphas
Prima frame stamp
Bazzill Bling Blooms
AC Tie rack ribbon
Ranger Gold Pearl Liquid Pearls
Pébéo Cinnamon & Khaki gloss and gold cerne relief dimensional paints
Bo Bunny Bohemian Borders rub-ons
Impex Bubbles frames
And there you have it - a pizza a box full to bursting with goodies and a crop happening this Saturday - what fun!