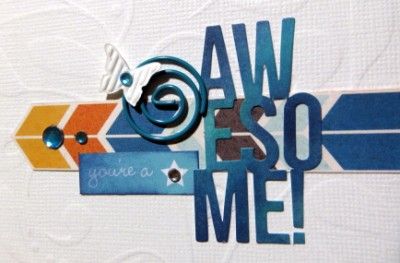 I've had an awesome day! Brilliant company, great cake (courgette & chocolate courtesy of
Lesley
) and plenty of scrapping at my monthly crop. As it was the last one before Christmas we had a Secret Santa gift exchange and extra goodies in a raffle. A really lovely day.
As ever, my scrapping output was fairly minimal (I enjoy the chat as much as the creativity) and I only managed one complete page to share today. That's Child No.3 in the frame earlier this summer ... a very bonny lass I'm sure you'll agree.
The page is based on
November's sketch
over at Sarah's cards and uses some scraps from my
October counterfeit kit
(fitting perfectly with a challenge over at UKS to use shades of teal and orangeon a page). Those teal gems and swirly paperclips were in my the Christmas surprise package on my crop table today - aren't they lovely!