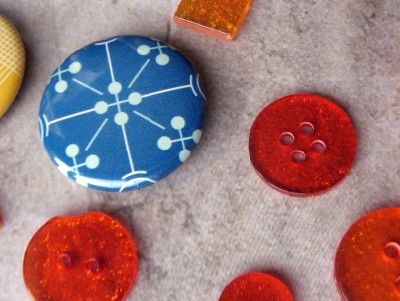 In this month's kits to counterfeit there were some lovely sparkly buttons in Jenni Bowlin's
Artisan Add-On
. I had a packet of tiny glittery tiles but thought I'd try and add a little glitz to a few translucent orange buttons with sparkly embossing powder:
Coating the back of the buttons with Versamark ink, dipping them in embossing powder and heating them with my heat gun worked like a dream.
You could achieve the same effect with glitter glue but this was super quick to do - just let the melted embossing powder cool for a couple of minutes before touching the button.
Versamark Ink and Kaleidoscope Embossing Powder is a quick and easy way to add sparkle to clear buttons!
(I use an old chopping board covered in aluminium foil to protect my work surface)
I also had a go with some clear buttons and added my own colour with Sharpies - great results! At first I tried colouring on the front of the button, but it actually worked better on the back - and it also worked perfectly well with coloured pigment inks rather than Versamark. The embossing powder is slightly rough so it's better to use it on the back of the button or you risk scratching anything that the button rests against.
You could even try adding a multi-colour design with your pens ... or an initial (just remember to use a mirror image if adding it to the back of the button!)