Welcome to the start of November's Members' Blog Hop from the Counterfeit Kit Challenge Blog. The challenge this month, was to
make a little book of thankfulness
.
Oh dear
, I thought. It's not that I'm not grateful for things, I am. But I have enough (unfinished) mini-books to last a life time and I need to use my creative time
usefully
... so I decided to twist the challenge slightly to my own ends.
Normally around this time of year I am busy with one of my many sisters in law, gathering gift requests and financial donations from Hubby's very large family. There are so many brothers, sisters, nephews and nieces, cousins and spouses that we found it easier to put together a huge pot of money and buy each relative
ONE
gift on behalf of everyone else. Far better to get just one decent sized exactly-right present than two dozen much smaller and less perfect gifts. Each family contributes according to their means and last year the pot was nearly £1000 divided between 34 children and adults.
However this year several families are feeling the pinch and sadly the majority have decided that they will be cutting back and not joining in with extended family giving and receiving. The end of a very useful family tradition, leaving a big hole in the festivities :-(
Which is the perfect excuse for me to think outside the box and start making gifts instead ... starting with a set of Thank You cards for a variety of occasions:
Using my
November Counterfeit Kit
along with some white card, Sizzlits Retro Metro alphabet & Decorative Accent dies I concocted a number of reasons to be grateful and printed them in
Veggieburger Font
.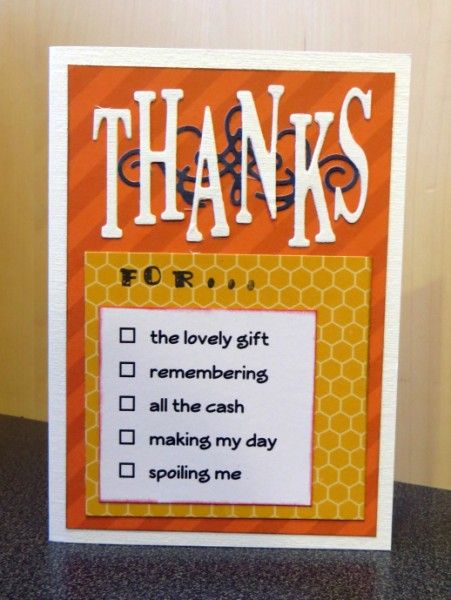 Hopefully this set of cards will make one of Hubby's sisters happy on Christmas Day. Now I'm off to look at other creative things to make and package prettily for the other four lovely ladies. Do you make gifts to give away?
The next stop on the gratitude trail is
Valerie
, but if you get lost along the way, the full blog hop order is published on the
Counterfeit Kit Challenge Blog
today. Happy Thanksgiving!