Counterfeit kit Challenge Blog
. This month we are are joined by
Vikki
our guest designer for November who starts the counterfeiting ... and if you started at the beginning you will have hopped over to me from fellow Master Forger
Dawn
.
The kit(s)-to-copy are
Jenni Bowlin's offerings for October
and, if I'm totally honest, I wasn't blown away by them. Not my style as I don't really do floral :-(
Furthermore I was itching to use some new scrapbook supplies, having just celebrated a medium birthday (ending in a 5) by splurging for the
first
time this year! So this month I decided to counterfeit with
new
stash using some of the original kit's colours and patterns as a starting point:
Starting with the 3 papers on the top row, I found an orange diagonal, a blue dot and a grey chevron from Simple Stories Urban Traveller's Basics Kit; the next row of papers in the original were counterfeited with papers using a grey grid, blue hexagons, a red dotty (did I mention that I struggle with florals?), a cream ledger and multi-coloured circles, all from three 6x6 pads (Studio Calico Snippets and Simple Stories 24/Seven and Urban Traveller).
I added a couple of other sheets from the pads to pad (!) out the papers and chose a selection of 3x4 cards from the Urban Traveller & 24/Seven collections. A couple of alphas, a roll of washi, some acetates, flair buttons and die-cuts later my kit was nearly ready.
I had a quick look at the embellies in the Jenni Bowlin add-on kits and loved the sparkly buttons in the
Artisan Add-On
... and made my own!
Supplies:
Orange Stripes/Map, Navy Dots/Ledger & Chevron/Grey Concrete from Simple Stories Urban Traveller's Basics Kit
B side of Okay from Studio Calico Snippets
Today from Simple Stories 24/Seven
A side of Stop from Studio Calico Snippets
Notebook/Yellow Honeycomb from SS 24/Seven
Lets Go, Downtown & Goodtimes, Bingo Cards/Coloured Dots from SS Urban Traveller
3x4 Journalling Card Elements from SS Urban Traveller & 24/Seven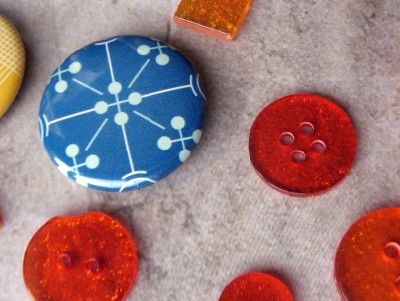 Websters Pages Transparency Cards
Die Cuts from Pink Paislee's Portfolio Ephemera
WRMK Orange washi
American Crafts Flair Buttons
AC Meadow Thickers
SS Sn@p! Typeset, Letters & Icons stickers
Glittery tiles ... who knows where these came from?
Counterfeited Queen & Co Sparkle Buttons
I'm really excited to get started with my new goodies - I'll be back with details of button experiments in a few days. In the meantime please hop over to
Julene
to see whether she's used old stash or new stash in her counterfeiting.