Another weekend away ZIZO from me today. In fact I have two for you. We met up with friends from Holland holidaying on the South Coast of England. We split the distance between our house and their campsite by meeting up at
Stonehenge
! It's probably 40 years since Hubby and I last visited and things have changed (several times). There is a newly opened English Heritage Visitor Centre which explains some of the timelines, artefacts and theories around the stones and has models with "
Please Do Touch
" signs!
It's a nice detail, especially as you cannot feel the real thing, nor even walk amongst the stones (except by paying extra and booking ahead or joining in with the solstice celebrations). Instead, regular tourists are driven (or can walk) up to the ancient henge and can then walk around the stones at their own pace, listening to hand-held multi-lingual audio guides. With millions visiting every year it's important to manage the tourist flow and allow everyone a clear view to take their "selfies" proving that they were there! I even saw a pair of girls take turns with a selfie-stick ... and wondered why they couldn't just ask each other to take the photo?!?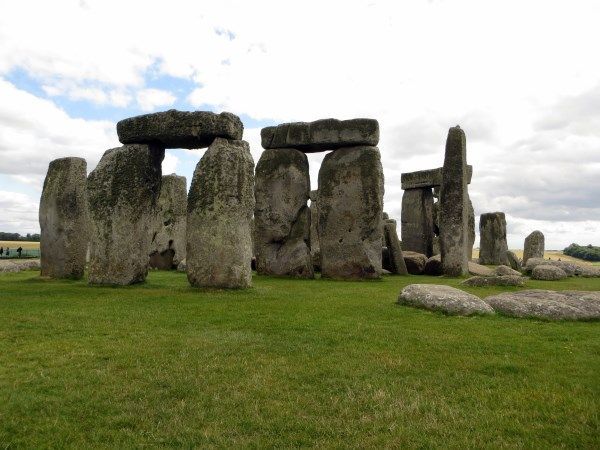 I'm glad we had free entry with National Trust membership as the price is pretty steep otherwise. We took our friends over to
Avebury
after lunch so that they could get up close and personal with sarsen stones erected around the same time as Stonehenge ... for free!
See that large rock nearest the foot of the path ...
... that's us in front of it! It was quite mind boggling to realise that we were touching a rock of that size that was put there 5000 years ago with nothing but primitive tools and manpower!
I wonder what other spectacles people have zoomed in on with Helena ... check out
week #33 here
.