The latest challenge over at the
Counterfeit Kit Challenge Blog
is to use doilies ... not my favourite scrapping resource, but having dipped out of the first challenge this month, I felt obliged to have a go. Actually it was easier than I thought after spotting
this page
by Kirsty where she'd made a real statement with her doily by painting it black! (The page I made with a black doily is
here
)
For today's page I used Child No.3's Promarkers to add colour to a small doily, picking out the blue in the striped border I used to make chevrons for my page.
I blogged my first
Month in Numbers
at the end of January and here it is, down on (Scenic Route's double-sided Sonoma patterned) paper: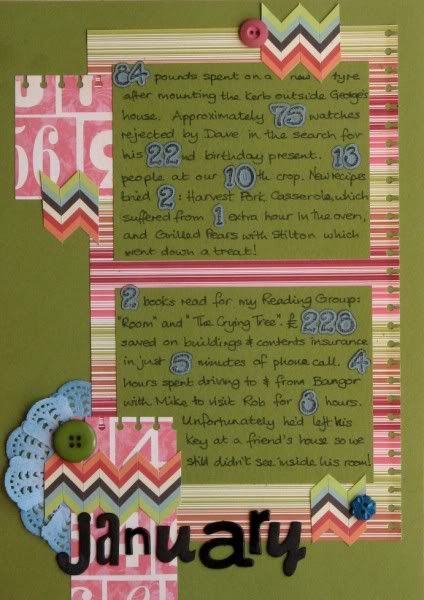 My doily had 12 sections to it, so after colouring, I removed 6 of them to see if there was a snowflake vibe to it ... that would be a "No!" ... so I cut it into two sections and layered them to make a dimensional semi-circle. The chevrons are cut from a striped border from Cosmo Cricket's The Boyfriend Collection. My numbers were cut with Sizzlit Ducky Wucky dies from my Kraftcore cardstock, sanded and inked to help the numbers stand out. I added some buttons and a title made from all sorts of random chipboard alphabets pulled from my stash, coloured with black ink to match each other.
In an effort to be ready for February's numbers (and create a facing page for my album), I have half-prepared a page with the same supplies and another border strip from my
February Kit
along with another Promarker coloured doily - a heart of course!
I'm doubt I will continue with this page design (and doily use LOL) for the rest of the year as I'll get bored, but I'll definitely use matching designs and base colours for each pair of pages - that will work well and save effort!