I think we all go through phases of loving a tool or a technique, overusing it and then abandoning it. Some of us also get carried away when shopping for supplies, adding "must-haves" to their baskets and then realising that they were actually "could-have-managed-withouts"! I, myself, am particularly guilty of buying stash simply because it's a "bargain" without really considering where, when or how I'll use it.
That's why the
first challenge
this month at the Counterfeit Kit Challenge Blog is so great:
dig out some un-loved supplies or tools and give them an airing
.
My corner rounder is one of my
Top Ten Tools
, and certainly not one I would want to manage without, even though it hasn't had an airing for ages. So I gave it a bit of a work-out on this page with ancient photos from 2004. The background cardstock didn't come from my
September Counterfeit Kit
- it came from a "bargain" grab-bag of mixed green Bazzill - and was, I thought, almost unusably bright! Luckily it toned with the peppermint greens in my kit's patterned papers and there were plenty of photos to help cover it up.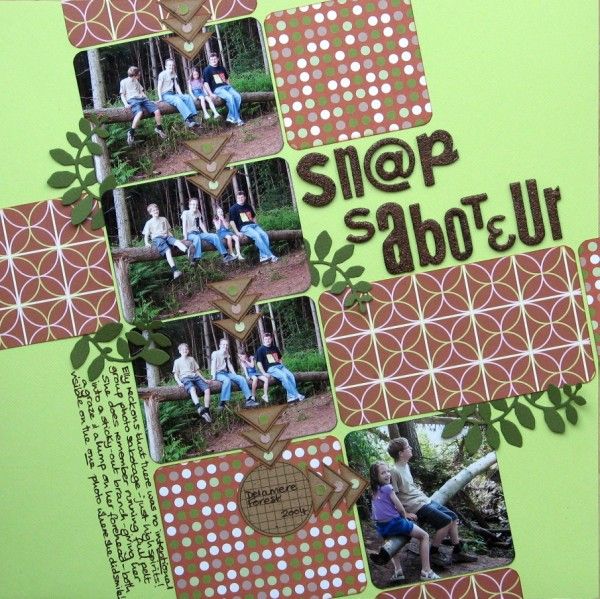 This page also fitted in with one of the September Weekly Challenges over at UKScrappers
Heat embossing chipboard alphas is a sadly neglected technique for me; it's quicker, easier and a lot less messy to grab a sticker sheet or even die-cut some alphas. However, I love the effect and it's a great way to bring unity to a title formed from various different alphabet sets. Therefore it was no great hardship to dig out my heat gun, silver foil covered chopping board, Versamark Ink and PSE Woven Tapestry embossing powder and set to work.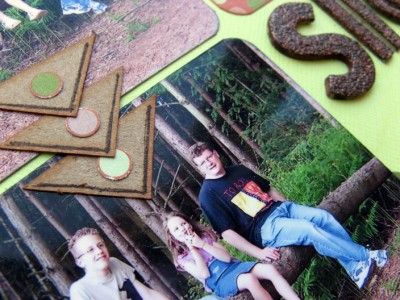 Child No.3 remembered the day the photos were taken, hotly protesting that there was no intentional sabotage, just high spirits!
What she does remember is running full pelt into a tree branch and grazing her forehead.
"
Look, I still have the scar!
" she said.
I looked; perhaps I need new glasses?
Wait! Yes I can see it: the graze and lumpy forehead are visible in the one photo where she was prepared to smile at the camera!
Am I mean to call that Karma?! ;o)