This post is my third step by step for the CHA items I counterfeited for my
September Counterfeit Kit
- this time those
cute bow-topped paperclips from Studio Calico
. If you check
here
on the Counterfeit Challenge Blog there is a way to make them with paper, but I chose to
f
make them with ribbon.
1. You need three lengths of ribbon: approximately 3", 2" with pretty notches cut at each end and 1" or enough to wrap around 3 layers of ribbon. My rather shabby looking mat is marked out in centimetres for my more modern & European readers! I've used a velvet ribbon so that the front and back of the ribbon is hopefully easily distinguishable :o)
2. Fold both ends of the first and longest piece to the centre and sew in place - I've used black thread for clarity but it won't show anyway.
3. Add the second notched piece "face" down onto the looped ribbon and sew in place.
Collage made with Picmonkey - my new favourite on-line application!
4. Sew one end of the third and shortest piece to the centre of your bow; wrap it around the front of the bow to cover the stitching and sew the other end down securely.
5. Slot a paperclip through the loop made by the final piece of ribbon and use to embellish your project.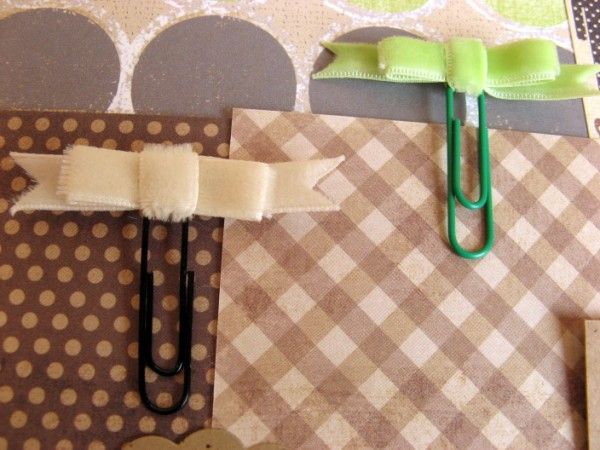 A quick question for you:
when you add a paperclip to your pages which bit do you leave showing - the long or the short part? Or do you attach it so that the whole paperclip shows? I actually like all the paperclip to show but then it isn't clipping!