Welcome to the final post of the March CKCB Members' Blog Hop; if you didn't reach me from
Cindy
then you might want to start at the beginning with
Lisa
. This month we had a choice of three challenges to use for the hop (
#1 Use Watercolour Techniques
,
#2 Be Inspired By Jennifer
and
#3 Add Texture To Your Background
).
I had a page all ready for the texture challenge, but then I realised that today I'd also celebrating blog post No:
so I decided to combine texture with my favourite on-line tool:
Tagxedo
.
As you can see from the image, it's possible to load up your own text to be used as the outline rather than use the pre-defined shapes (here I selected
Shape ►
and
Add Words ...
and typed the characters "400", chose ChunkFive font and then inverted the shape.
It's also easy to upload special fonts to use instead of the standard ones: my
200th blog post
explains how I used Saru's Flower Ding Font, available free from dafont
here
. Any special font has to be already downloaded onto your computer and then uploaded into Tagxedo by selecting
Font
►and
Add Fonts ...
Mothering Sunday is approaching (in the U.K.) so I thought I'd see if I could combine these two actions and make my outline shape from the character set of an added font. I loaded Wingdings2 into Tagxedo first, then made my shape the letter "u" in Wingdings2 to give me ❶ (I generally copy & paste from the Windows Character Map to select characters in weird fonts as it's impossible to remember all the character equivalents ...
this sheet
is useful for quick reference though).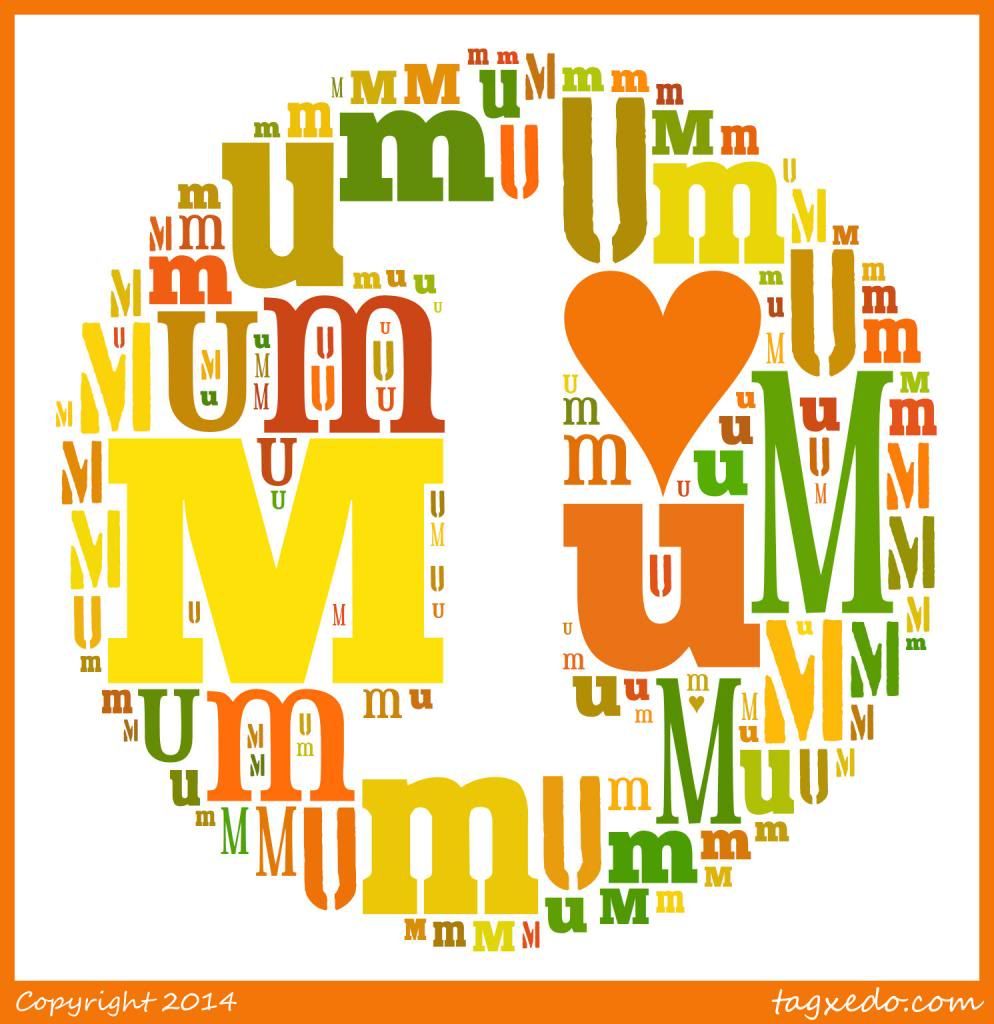 My Tagxedo text was simply the letters "M", "u" and "m" rather than the word "Mum" plus a ♥. I forced the ♥ to be artificially large using ♥:150 and the letters were repeated 40 times (
for some reason it's necessary to
type
in the letters individually rather than use
"M:40 u:40 m:40"
but I have NO idea why
).
I used the defaults for everything else except:
Theme = Pi Palette
Font = a few of the ones I like best (

deselect unwanted ones, including Wingdings2!

)
Orientation = Horizontal
My
Word Options
were:
Remove Common Words = No (for small words like "a", "is" and "it" ... and "m" and "u"!!!)
Combine Identical Words = No (

so that "M" and "m" aren't treated as one item

)
My
Layout Options
were:
Max Word Count = 150 (stops the letters getting too small - for printing out reduce it further)
Allow Replication = Yes (

to fill the shape without typing "M", "u", "m" repeatedly

)
Font Preference = All (the ones I have selected)
I messed about with
Layout
,
Colour
, and
Font Respins
until I found a combination that I was happy with - utilising the
History
to see thumbnails of the variations - before using
Save ...
to get an image onto my computer.
And here's the finished card:
My Coluzzle circle templates were dusted off to cut out the Tagxedo image and mat it onto a scrap of textured orange card before scissor distressing the edges. The starry strip is made with a 6x6 Crafter's Workshop punchinella stencil and some texture paste which was coloured once dry. The rest of the supplies (washi, butterflies, ledger paper scraps) are from my
March Counterfeit Kit
.
I've just had the Tagxedo image printed onto a mug for a matching gift ...
Aldi
have free postage on gifts at the moment with the code
EASTER3
... hope it arrives in time!
Well, that's it for the CKCBMBH today - if you missed anyone you can see the whole blog hop listed
here
. If you fancy joining in yourself next month, just drop the CKCB a mail - everyone is welcome.
P.S. If you're new to Tagxedo, please check out some of my other Tagxedo posts for more tips & tricks.