Karen
and
Michelle
and admiring their skills with masks, stamps and inks for making beautiful backgrounds when Karen challenged us to get out of our comfort zones by swapping styles. She reckoned it would do me good to get inky for a change and she might have fun trying out a more blocky C&S style.
The
Counterfeit Kit Challenge Blog
had a
challenge to add texture to your background
which needed doing. I also wanted to have a go with
Scrap 365's March sketch
and wondered if I could replace most of the layers of paper with layers of texture paste and ink ...
I used a 6x6 Crafter's Workshop punchinella stencil and some texture paste to add 2 strips of small dots across the page as well as a scrap of white card for an extra layer. Once these were dry I added some colour to the background before inking through a chevron stencil right across the page. This was then overlaid with the 12x12 version of the punchinella stencil and more texture paste. Finally I added some ink splatters before layering up the photo on scraps of paper from my
March Counterfeit Kit
.
The page needed a little more colour ... a sun made from a spiral paperclip and some washi combined with a few of my kit's starry gems did the trick.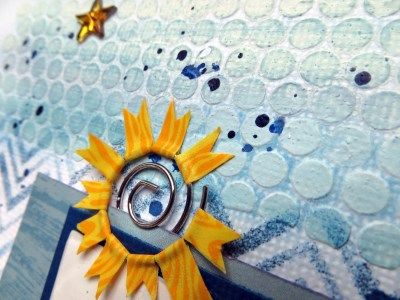 Hmmm ... it certainly is inkier than my normal but you'll note that I still had to have my layers horizontally placed across the page! Karen adopted the blocky graphic style of one of my pages but couldn't quite resist adding a few trademark ink splats - we are obviously both creatures of habit!
ETA: Here is Karen's style scraplift of my original page.
Do you have a particular technique/style that you struggle to avoid? Do you ever style-scraplift your friends' pages?