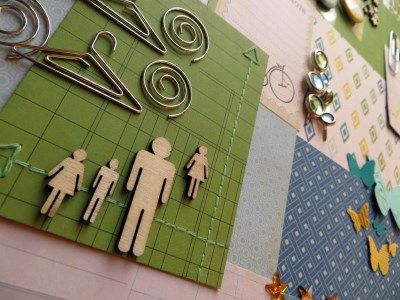 Time certainly does fly when you're having fun! I have been Counterfeit Kitting for just over three years now and this will be my 30th "free" kit, "bought" from my existing stash ... you'd think that I'd have no scrappy supplies left by now, but somehow they keep getting replenished ... can't imagine how LOL
Anyway, welcome to my 30th kit share: we're using
Cocoa Daisy's February Kits
as inspiration and you may have started with this month's Guest Designer, my friend
Elaine
, or you may have popped over to me from
Angela
's blog and seen her arty take on things.
Time is short for me this month, plus I have my first DT kit from
SJ Crafts
to play with, so I decided to keep my Counterfeit Kit small. I was desperate to counterfeit the Studio Calico stitched journalling cards, so I decided to have a go at counterfeiting the
Day In The Life Add-On
.
Now I don't actually do a daily, weekly or even monthly pocket style of scrapping ... but I'm going to try and incorporate all these mini cards into my layouts ... either with lots of layering or with a blocky design. So here's what I'll be playing with this month:
Supplies
(many gathered while tidying away old counterfeit kits)
Echo Park For The Record 2 Alpha Stickers (
Aug/13 CK
)
MME Cut & Paste Flair Today Tiny Word Stickers (
new stash from SJ Crafts
)
Simple Stories SN@P Alpha Stickers
EP FTR2 Journalling Cards (blue dots reverse)
¼ sheet of EP FTR2 Just My Type (ledger reverse) (
Aug/13 CK
)
½ sheets of EP FTR2 Wallpaper (B&W diamonds reverse), Diamonds (blue arches reverse), Fancy (yellow damask reverse) (
Apr/13 CK
)
Tiny Envelope
MME Happy Days Twine (
Jul/13 CK
)
American Crafts Flair Buttons
Studio Calico Wood Veneer Stars
Counterfeited Flag Clip (fold washi around a paperclip and trim)
Home made "polaroid" card (
Aug/13 CK
)
Dovecraft Silver Jewel Brads
Simple Stories Journalling Cards from Urban Traveller and 24/Seven
Spiral & Hanger Clips
Studio Calico Veneer People
Webster Pages Transparency (
Nov/13 CK
)
Gold Star Gems
Die Cuts from Pink Paislee's Portfolio Ephemera (
Nov/13 CK
)
Punched/die-cut butterflies
¼ sheet of MME Dolled Up Madras (multi-coloured cross hatch reverse) (
Mar/13 CK
)
WRMK Yellow Washi Tape
Websters Pages Green Washi (
Jan/14 CK
)
That's a LONG supply list for such a small kit!! As intended, I've had fun with my sewing machine counterfeiting the journalling cards - not all of my experiments worked well - please come back on the 8th to see how I got on.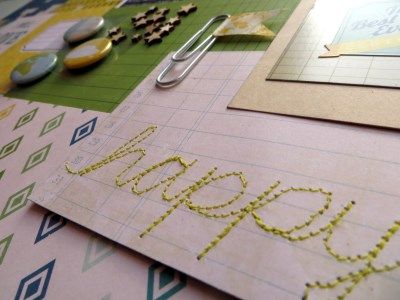 The full hop list along with this month's details is published on the
CKCB
today - but if you're already on track then
Julene
is next on the tour.
P.S. There's still time to have a go with the SJ Crafts February Sketch before their March challenge goes live on Tuesday 4th and be in with a chance of a prize ...
check it out
Sorry! Too late the linky has expired :-( More prizes later this month though!