Just over a week ago I was happily scrapping with 14 lovely ladies at The Second Green Buttons' Retreat (the Remix). We had a weekend of crafting and chatting and chocolate :o) I gave a quick class on stitching with templates and happily listened while others shared their expertise.
Ruth
showed us three brilliant ways to use up our scraps and I knew straight away that this was a technique I could use for the
first challenge
of the month over at the Counterfeit Kit Challenge Blog:
to take inspiration from a quilt.
What's more I have
finally
made a start with the photos from our 2004 Florida holiday! We all look so young (and thin) in the pictures ... my diet has restarted with a vengeance! Not that I'm in this particular photo - there were only four wigs to try on so I stayed safely
behind
the camera!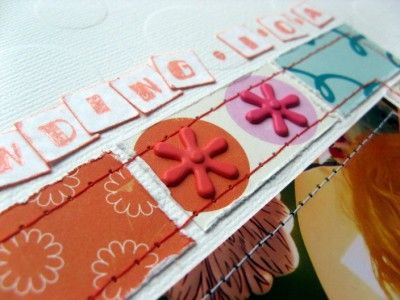 The scraps are from my
October Counterfeit Kit
(
OK I know I haven't shared any pages made with the kit yet, but this was a scraps class
) with the addition of some Polka Dot Bazzill, Sizzlits Trixie die-cut title, Studio G stamps and a few brads. I used this lovely sketch from The Sampler Kit Club's
September Challenge
too:
If you are inspired by a quilt pattern then please do
link up
over at the CKCB - check back soon for the pages I made which created these scraps!!