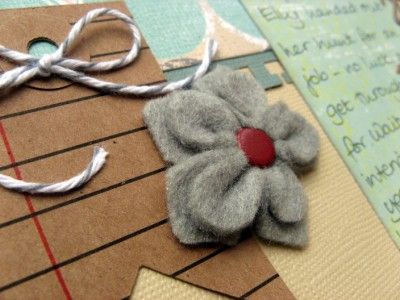 I promised myself that I would get a move on with transferring my Month In Numbers posts (read all about MiN
here
) onto paper while I was away at The Second Green Buttons' Retreat (the Remix) earlier this month. Armed with print-outs from my blog and some extra notes from the calendar and my diary, I am proud to report that I completed seven missing months' journalling!!! The pages themselves were ready, it was just a question of adding the words and numbers. I won't bore you with them all, but I do have a previously unseen pair of pages made with my
September Counterfeit Kit
, featuring the stitched lettering that I have been using recently along with some
counterfeit tags
and
fake felt flowers
too.
My contribution to the retreat was sharing some hand-stitching ideas including a template for the stitched letters. I have sized the letters to match my diminishing supply of Scenic Route chipboard alphas. Printed out onto a transparency, they can be positioned exactly where you want them to be before you prick through to create your stitching holes. And because the transparency is reasonably durable you can use it
again
and
again
.
Do you fancy having a go with my template? I've uploaded it to share
here
(
for some reason it looks like a blank sheet on Google Drive's preview, but it does download properly
). Do please leave me a comment and let me know what you make of it.