Back in May, just 3 days after my surgery, I donned bubble wrap around my elbow (!) & braved the drizzle and the crowds to watch the end of the torch relay in Crewe. I'd picked out a good spot which gradually got worse and worse as the marshals failed to stop the crowd standing in the road rather than on the pavement. Just before the torch bearer arrived I gave up and moved up the road, away from the crush ... ending up with a prime spot to view the flame safely being transferred to the lantern.
Perfect for an unobstructed photo or two!
Here they are on another page made with
October's Counterfeit Kit
at my recent weekend retreat: quite a different vibe from my holiday pages as I've used two of the "B" sides. There's also more hand-stitching using a circle template printed onto acetate.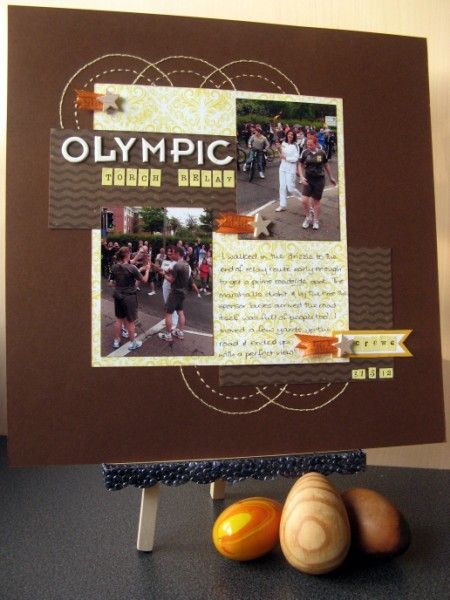 This month's
second challenge
at the CKCB was to get creative with photographing a project. I toyed with patriotically breaking out the Union Jacks, but decided that some wooden eggs would complement the colours and textures of my page rather better. It certainly makes a change from laying my pages on the floor and standing over them to photograph them without distortion. How do you photograph your pages for your blog?
P.S. If you love the CKCB as much as I do why not think about joining the Master Forgers