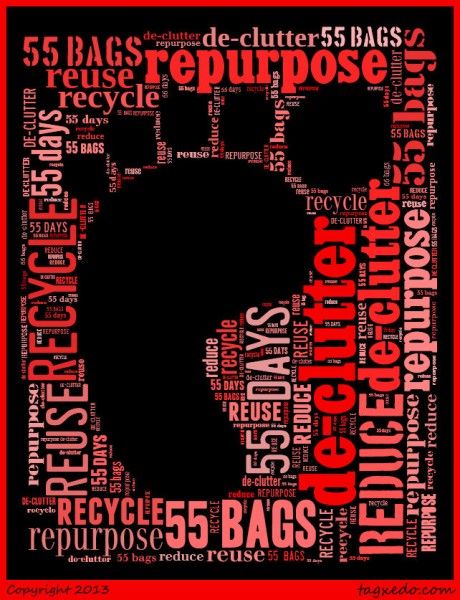 Welcome back to a little more de-cluttering. Alas, prompted not by renewed enthusiasm for my Fifty-Five Bags project, but by my inability to put the week's shopping away in the kitchen cupboards in a sensible manner - and, if I'm totally honest, by my inability to *
delegate*
the chore to No.2 Son and Child No.3 who are being encouraged to help out more while I earn more.
No matter - I knuckled down and cleared out several of the cupboards on my list of 55 locations and discovered all sorts of out-of-date horrors for the (bin) bags!
Eeek - coffee in an open bag from 2007 out of one cupboard and brown rice, lentils and quinoa from 2010 found in another!
I tried to emulate Sandra's
thoroughness with recipes
, but that will have to be a work in progress; meanwhile I was
ruthless
with cookie-cutters and lolly-makers! The hall coat cupboard also got a thorough sort-out and we no longer own 5 plastic ponchos for theme-park water rides, a couple of out-grown coats, a bulb bought in a shop that closed 15 years ago and ten, yes
TEN
baseball caps!!!
Thank you for last week's support and encouragement while I had an "off" week - it is really good to hear about your efforts and it
is
keeping me accountable.
Ladykis
reckons she is still not de-cluttering but
we know better
, poor
Stacey
is doing her best but as fast as she boxes up the rubbish,
her hubby brings more home!
Lesley, however, wins the prize for the biggest single item of de-cluttering and maximum help from hubby:
"... I'm decluttering! I've sorted the camper van which was being used as a garage so we can now use it and I've also persuaded DH to get rid of his much beloved motorbike which means I'll have half a garage with nothing in it :)"
I know from chatting with Lesley that the motorbike is already gone and that garage space has been freed up! Well done you!!