I loved the Jillibean Soup hexagon stickers in the
Scraptastic Club
kit that we counterfeited this month and they were the perfect excuse for me to christen the
Quickutz
Lifestyle Crafts nesting hexagon dies that I bought recently. Cutting hexagons was simple enough but what I wanted to recreate was the coloured framing of the original stickers. Two adjacent sized dies should do the trick ... but how to hold them in place??
I must come clean here and admit that I am an absolute novice with my Big Kick (those cutting plates have only seen hexagon action!) and there may well be a magnetic shim that you can use to keep these metal dies stationary on the cutting mat. In the absence of such a wondrous thing (and the knowledge of just what "sandwich" to use with it if I had one) I simply placed the dies face down on my coloured cardstock and secured them with a sticky post-it note before rolling them through the Big Kick. This gave me a small coloured hexagon and a separate frame.
I cut a piece of Kraft with the larger of the two dies and simply glued the coloured frame to it. By repeating the process with smaller dies, securing them to each hexagon with the sticky post-it note, I proceeded to cut ever smaller frames, backing them with more Kraft.
Now, not everyone has a set of nesting hexagon dies but it is perfectly possible to make your own template from chipboard -
using a compass
- or better yet, simply print some
hexagon graph paper
onto the back of your paper or cardstock and cut some out directly. For framed hexagon spots you'd need nested templates of course.
While checking out other people's counterfeit kits on the
CKCB
, I spotted a wonderful piece of
Hexies counterfeiting
by Kirsty.a and shamelessly copied her idea of adding washi tape to them.
Thank you
Kirsty!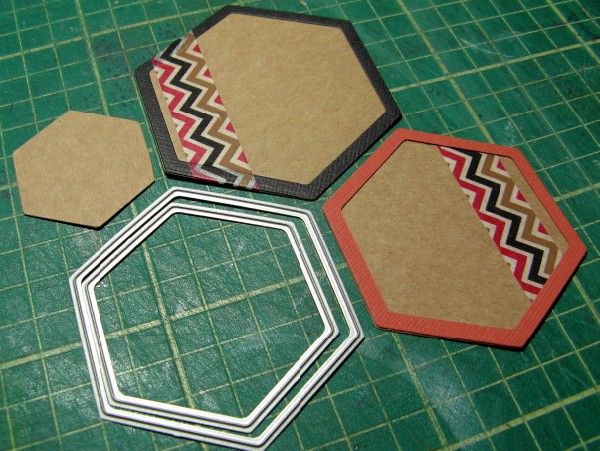 That's the wonderful thing about the CKCB: sharing ideas about how to stretch our stash and make do by making a dent in the supplies we already have. It's always worth having a look through the links each month.
Now that I have "sullied" those virgin cutting plates with my hexagon dies there will be lots more die-cutting going on here. If you have any tips for securing the dies in place and getting the "sandwich" right do let me know!