Another page from our Disney 2004 holiday - using some of the
hexagons that I've been cutting
- along with inspiration from the (rotated) February sketch from
Stuck?! Sketches
Check them out - their sketches are great!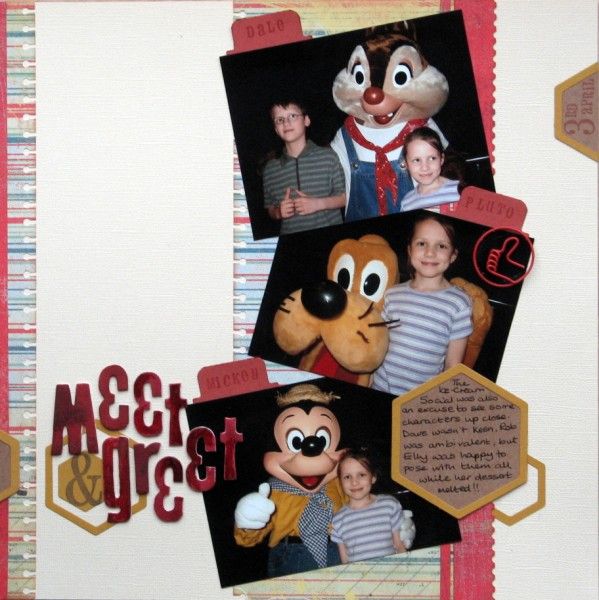 My photos were larger than the sketch required so they needed overlapping and some jaunty angles to fit. The title alphas are a mishmash of different chipboard sets adapted for my page: the M is a W, the Es are &s and those Ts started life as 4s! Lots of inking was required to get them to be similar colours - it wasn't evenly done as some were bare chipboard and others had a white base layer. I
should
could have prepped them with white acrylic but I'm OK with the grungy, uneven look - it goes with the red paper. All supplies are from my
February Counterfeit Kit
apart from the thumbs-up paper-clip, the alphas, and a variety of Pharmacy stamps.
P.S. There's still time to sign up for the Counterfeit Kit Challenge Blog Members Blog Hop - check out the challenge
here
. {
I'm planning another go with this - I reckon Hubby might appreciate a Valentine's card with a list of why I ♥ him ... no photo, just a list ... I'm sure that will count for the challenge
:o) }