I had a smashing day at the Golborne Crop yesterday - thank you ladies for welcoming me and supplying the danish pastries :o) I normally attend a crop much closer to home, but as I'm attending the Pink Booby Crop next month I wanted to do a test drive and put some faces to names. On top of the delicious pastries and friendly atmosphere, I also achieved a
mahoosive
SEVEN pages for my LSNED album (and that's including re-doing two pages because I'd mixed up which side the binding space has to go!).
It's good to share
People are extraordinary
I spent Sunday afternoon watching part of a
penny-farthing endurance
race in Knutsford - it's only held every 10 years - I reckon they need the next 9 years to recover!
In the evening I attended the launch party of a new community radio station -
Red Shift Radio
- where local band, The Coverup, were playing. I'd seen them on "Come Dine With Me" recently (the lead singer, a sales manager for Barclays(!), won) and really enjoyed their playing; slightly deaf now though ;o)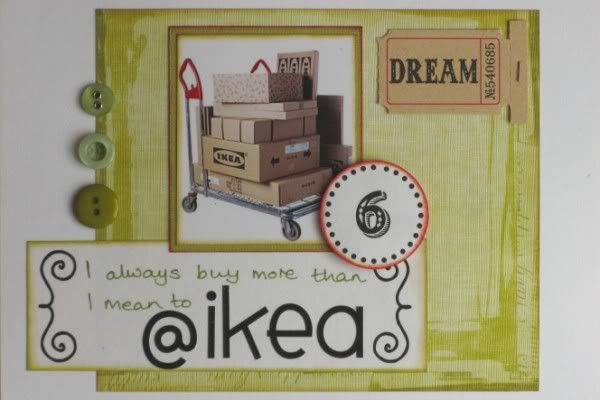 I always buy more than I mean to @ IKEA
Our latest trip to IKEA was to exchange a few items and to buy 3 breakfast bar stools and a shoe cabinet, but somehow we also bought drawer liners, cutlery, towels, chopping boards, plates, bowls, plastic utensils, glasses ...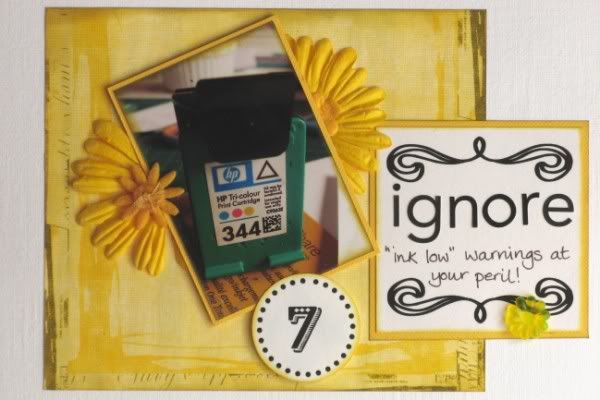 Ignore "ink low" warnings at your peril!"
This is the main reason I've had to play "catch-up" on my LSNED pages: the printer has been moaning about a low level on the colour ink cartridge for weeks ... but instead of ordering in a reserve cartridge for when it failed ...
It died last Friday night as I was finally checking the model number to order a replacement cartridge and I had to wait until the 7th for it to arrive. Lesson definitely learnt today!
Geocaching isn't just about the Treasure
This page is a reminder of a successful morning's geocaching with friends and some first-timers. We found 3 caches along the canal near Nantwich Marina which was good in itself, but we also met a gorgeous labrador puppy, saw a heron, admired a wooden horse statue, watched butterflies and got some exercise on a beautifully sunny day.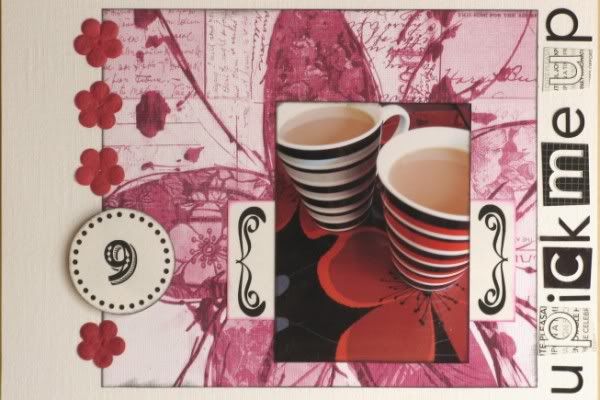 u pick me up
The new kitchen has
needed
all sorts of little extras, including these mugs and a work top saver. I thought I'd capture them on film along with a restorative cup of tea after a tiring trip into town.
The final and simplest page made at the crop records the rather stupid accident I had on Friday: somehow shutting the boot of our MPV into my face!?!?! I have a grazed nose and a bump on my forehead. I couldn't do it again if I tried - even if I wanted to!