Over at the
Counterfeit Kit Challenge Blog
we were challenged to scrap our hopes, dreams or aims for the new year. Hmmmm - I'm not a great one for resolutions as I am even worse at keeping them so I thought I'd give this one a miss.
However, reading some of the blogs of my crafty friends, awash with posts of their good intentions, I began to feel a little left out. Then the CKCB supplied a lovely sketch by
Creative Scrappers
and then I saw
Ruth
post her 12 goals for 2012 - most of which were spookily perfect for me - so I thought "
Why not?
" and decided to join in after all.
In the end it was quite tricky to narrow it down to just 12 goals - but I've picked a mix of personal & creative, small scale & life-changing, fun & functional.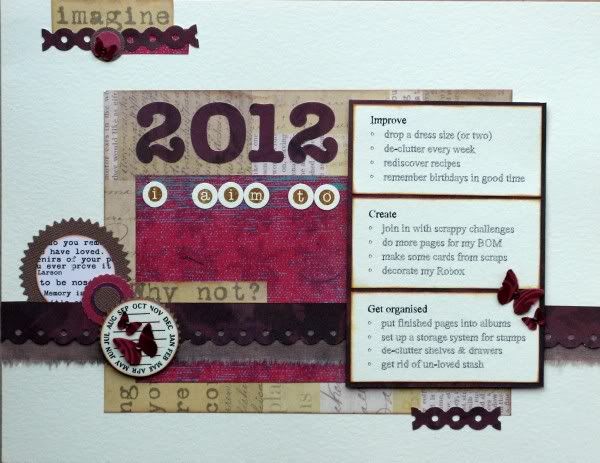 I wonder if this public statement will actually help me achieve more ... I hope so!
P.S. This one page ticks both the "BOM" and the "join in" boxes: it fits the CKCB challenge, the UKS Weekly challenge (with something old - my
January Counterfeit Kit
, something new - borders created with my Xmas gift from Child No.3: a Threading Water punch, and bling - clear gems coloured brown with my Sharpie pen)
and
the monthly challenge over at
Sarah's Cards
-
result
!!! I've even put it straight into my Book Of Me album.