HAPPY NEW YEAR
fellow counterfeiters! Welcome to the start of our kit-copying for 2012.
If you have hopped over to me from
Helen's blog
then you are on track with the Master Forgers' Kit Hop; if not then you may want to pop back
here
to start at the beginning to see them all.
This month we were given links to an array of kits from Cocoa Daisy as our starting points. I know my limitations and only picked one to copy: the December 2011 Add-on.
Having none of the actual papers in my stash, I decided to look for a "match" for the October Afternoon Button Box paper and go from there. Eventually I found some Polar Bear Press Blue Ridge Paisley which had a similar dark colour base with a lighter coloured intricate all-over pattern printed on top.
That was stored next to the Cabin Fever Dots from the same range which "matched" the regularly spaced flowers on one side of the Jillibean Black-eyed Peas paper while some Holly-Jolly paper from Daisy D's made a bright alternative to the other side. I replaced the retro cards from the reverse of the OA Button Box with yellow/cream text blocked paper (manufacturer unknown!).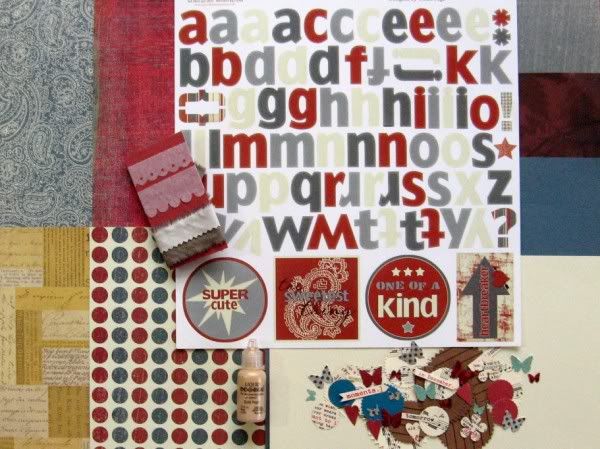 I had planned to counterfeit the OA Farmhouse alpha stickers by stamping white letters onto matching cardstock … but I had Polar Bear Press stickers to match already!
Instead, I had a lot of fun reproducing the OA Flower Sack of die-cuts by simply punching scalloped & pinked circles, flowers, butterflies & hearts from scraps of paper and card. I even cut some words from some OA paper scraps that I found!
That just left the MME Pearl swirl and the Pink Paislee Mistable Ribbon … well
I have made my own swirls
with Ranger's Liquid Pearls before and I've got two things to replace the ribbon: some strips of fabric torn from an old cream sheet, cut on one edge with pinking shears and some border-punched tissue paper. I shall see which works and let you know.
ETA - I've reviewed my attempts
here
!
As it was originally just an add-on kit, it's light on embellishments, but I'll pull buttons, brads, stamps etc from my stash as required. I've added some plainer cardstock and paper to pad it out a little with an extra sheet of the Blue Ridge Paisley as it has a grey textured reverse, some Basic Grey Indian Summer Dogwood paper for contrast and some blue/grey & cream card.
There you have it - my take on Cocoa & Marshmallows; for more counterfeiting of Cocoa Daisy's inspirational kits please pop over to
Jen
who will certainly have something stunning to share with you.