Did that get your attention? LOL
No, I haven't been careless with my craft knife, just attempting to get with the program and splat some ink/paint onto a page in a random artful way. Like having banners everywhere, I just don't "get" it. Or at least not on
every
page! However, over at
UKScrappers
and on her blog,
Shimelle
is doing a monthly challenge to get us to try out lots of "different" techniques; this month they included splatting, small square photos, paint under titles, writing in more than one place, adding stitches & glitter ... all on one page! Too much for me in one go, and not all all-that-different to what I already do, so I picked the "scariest" one (the splatting) and a couple of the others that I am comfortable with (small square photos, writing in more than place) and produced this:
I'm pretty happy with the page, but part of me does think that my brown paint splats do look like dried blood! Maybe I should have chosen grey paint to splat with?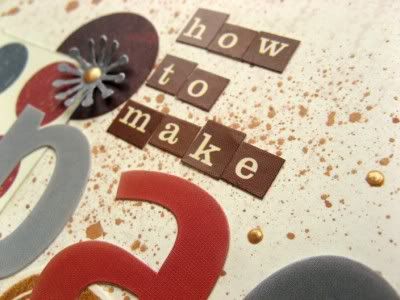 It's another page for our Barcelona 2011 holiday album: we topped off our wonderful
cycling tour day
with a cookery "course" in the evening. As the journalling says, it didn't quite live up to the hype, but it was a lot of fun (aided by the liberal quantities of strong sangria that we made during the evening). Three of us had never eaten paella before and despite not being a great seafood-eater I thought it was delicious.
That's my
January Counterfeit Kit
almost used up ... I'm now down to scraps. Take a look at the back of this page to see how I was struggling to get a 12x12 out of it!