I'm still stitching! Are you?
One of my pages featured in Clair's 2nd day of
Stitching on Paper
- here's a peek:
If sewing on your pages with a machine has proved problematical, then Clair has plenty of help and advice to get you started.
I have three tips to share with you regarding machine sewing on layouts:
What a mess!
Better on a scrap than my page though!

Use "invisible" thread on the bobbin so that you only have to change the top thread when swapping colours
Sewing through paper blunts the needle. Keep a scrapping needle separate from the rest or they'll all be blunt when you next sew with material
Test your tension, stitch size/style and cornering out on a piece of scrap cardstock (layered with extra scraps of paper if necessary). I find this especially useful with zig-zag stitches as the combination of zig-zag width and stitch length gives lots of variety.
The page I shared with Clair's class just used straight lines of machine stitching. My latest page needed some circular stitching to fit in with a sketch over at
Scrapology
. I drew the concentric circles in light pencil directly onto my cardstock to act as guides and erased them afterwards. I'm not brilliant at sewing straight lines, let alone perfect concentric circles, so I concealed any wobbles by going over the lines with more stitching that was purposely either side of the line with added zig-zags.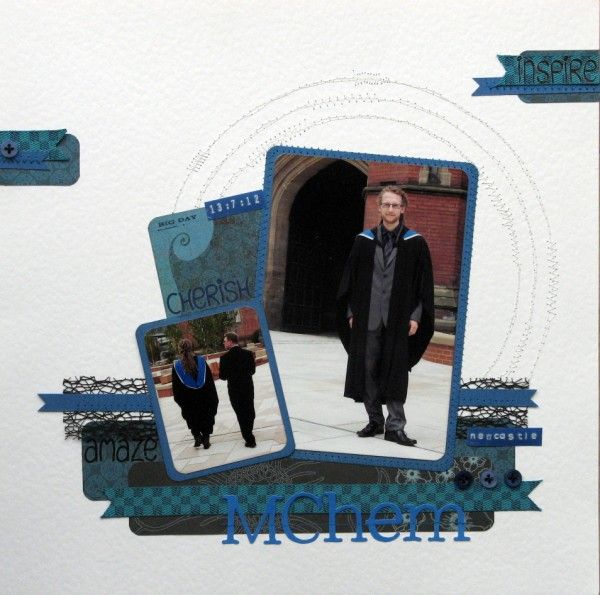 If you popped by on Sunday you will know that No.1 Son recently graduated with a Masters in Chemistry and I scrapped him with a group of his friends
here
. Today's page puts him centre stage but uses the same papers, cardstock and trim so that they will sit nicely side-by-side in his album.
More machine stitchery to come from me soon ... and Clair will be back next weekend with parts 3 & 4 of her
Stitching on Paper class
... I can't wait!