There's not always a reason for a gap in my blog posts. Sometimes I'm busy; sometimes I'm lazy; sometimes I haven't got anything to share. This weekend it was entirely out of my control as my ancient laptop failed yet again. I shut it down one evening and by the morning it had decided that enough was enough. Eight years of service, countless upgrades, an expanding workload and diminishing disk space proved too much. R.I.P.
Luckily I had seen the writing on the wall after the latest hiccup before Christmas and just taken delivery of a replacement. Unfortunately Hubby had advised me that a blank machine with separate software was the (cheapest and most flexible) way to go and so there was a steep learning curve before I could switch it on. It has taken me all weekend and a great deal of Hubby's help to set the new machine up, restore my bookmarks and e-mail addresses, download the latest versions of the main programs that I use and get to grips with Windows 7 and Thunderbird which replaced my old laptop's Windows XP and Outlook Express.
I'm
zooming in
on one little niggle that annoyed me: Windows 7 is meant to stack running programs on the taskbar under the pinned icons. This worked perfectly for Firefox - a little deck of icons for the multiple tabs - but for Thunderbird the pinned icon produced a separate icon when I read my e-mails. Not what I wanted (and not what happens on Hubby's laptop) so I got a-Googling!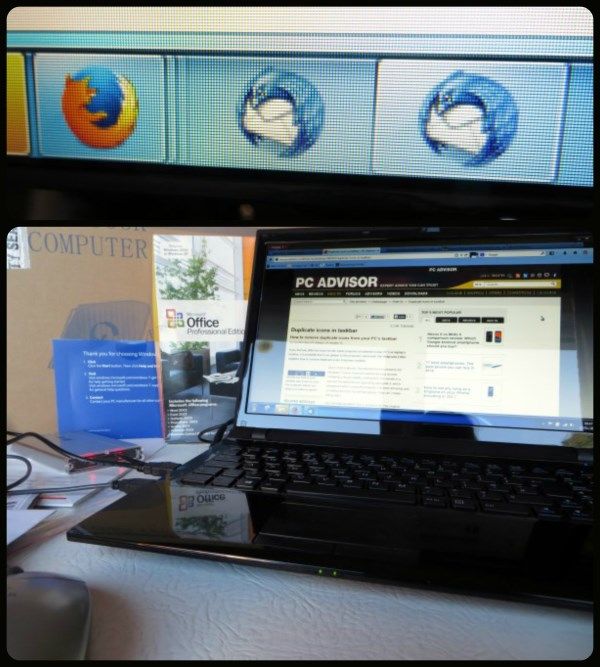 Eventually I found out that it was something to do with which version of Thunderbird had been pinned - totally confusing as I this was my first go with it and I hadn't realised I had more than one version! You can just about see on my zoom out photo that the advice from
PC advisor
did the trick! I'm a mouse user (left-handed, which leaves my right hand free for tea and typing) as I have never managed to get comfortable with the touchpad thingy built into laptops for moving the cursor. My old laptop's rescued hard drive is there too, ready for a humongous copy operation. I'll be taking my time though as this is an opportunity to clean up, consolidate and organise all my files. Looking for the silver lining ... LOL
I'm joining in with Helena's
Zoom In Zoom Out
for week #3, hopefully next week's photos will be on a happier topic!