Child No.3 is a big fan of Emilie Autumn and was desperate to see her in concert last summer. Not only that, but she was also willing to pay the extra to get a V.I.P. ticket for a meet and greet session before the show. Luckily I wasn't working when the tickets went on sale and spent an hour sitting by the computer, clicking refresh, waiting for them to "go live". That was one happy daughter after college that day! Here's a page with the official photo and a copy of the "doodle" that Child No.3 presented to her heroine.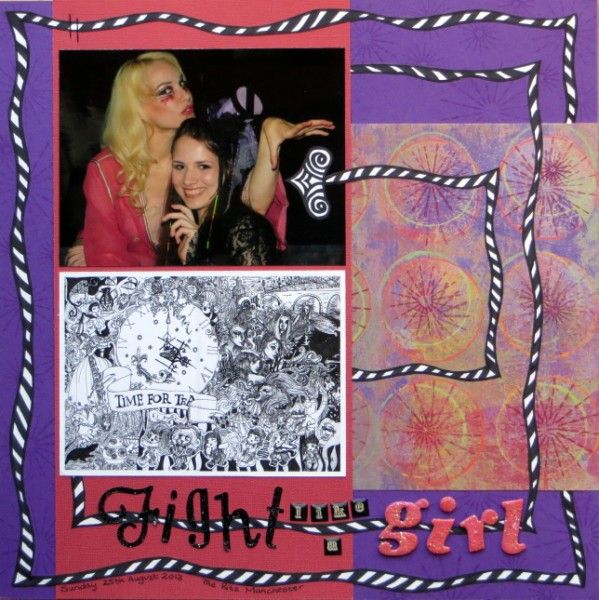 I'm joining in with the Counterfeit Kit Challenge Blog's
third challenge
for January: to stamp on patterned paper. I used Banana Frog Fireworks stamps on the Basic Grey Solar Eclipse paper and the background cardstock - a fun way to tie the two together.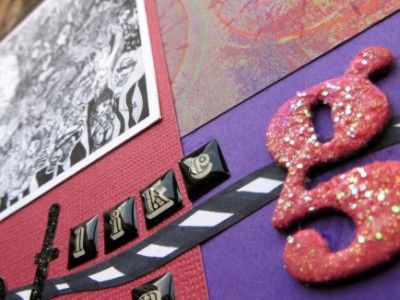 Talking of tying things together, this is another
multi
-challenge page (you know how I love them) as I've joined in with the
January Simple Recipe Challenge
over at UKScrappers which asked us to use a combination of rich plum, greeny blue and warm red ... not sure I managed much of the greeny blue, but I did add glitter to some alphabet stickers as required.
I also had fun doodling the striped frames, mixing up my glittery alphas and adding a couple of staples to squeeze in an entry for
Punky Scraps December Challenge
- phew!!
Keen readers may have spotted that these papers weren't actually in my
counterfeit kit for January
... well done! As long as I'm using stash it's all good I promise. Plus I have another page that
does
use my January kit all ready for the end of the month CKCB Members' Blog Hop.
If you fancy joining in with that, please e-mail the CKCB by the 18th - everyone is welcome to join in with a project from any of our monthly challenges - the more the merrier!
P.S. I can't let you go without sharing a close-up of Child No.3's "doodle" with you - I'm so proud of this girl!