Welcome to the
August's Counterfeit Kit Challenge Blog Hop around the Master Forgers
! Have you already been to visit this month's Guest Designer
Lynette
?
This month we have a bit of a departure in terms of counterfeiting ... copying a
digital
kit! It was hard to choose just one to counterfeit, but in the end we chose Summer Lovin' from Scrap Orchard - a lovely mix of bright colours and fun embellishments:
Now digi isn't really my thing - I have enough trouble deciding what paper or stickers to use without having the almost infinite choices of shade or font size that digi opens up! So I've stuck to paper this month - starting as I always do by seeing what similar patterns/colours I have in my existing stash. First off I found a sunny hexagon pattern, a multi-colour floral and a woodgrain paper in amongst some recent acquisitions. I loved the yellow, orange, teal combination that was forming so I pulled the rest of my papers to tone with these.
My Sizzlit rosette die will be put to use soon and I'm planning to make some hexagonal pinwheels shortly.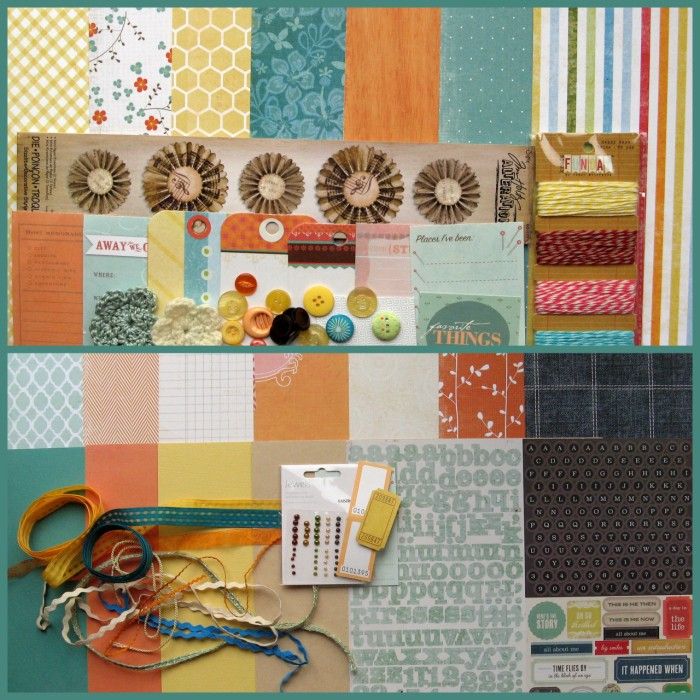 Supplies
Cardstock in teal, yellow & kraft
Be Adored from My Mind's Eye's Follow Your Heart "Be Amazing" collection (teal ogees on the reverse)
On The Bright Side Small Floral (orange chevrons reverse) also by MME
MME's Societé (white ledger with added hexagons on the reverse) from their Follow Your Heart "Be Amazing" collection
Echo Park's Paradise Beach Sunshine (orange flowers, swirls & surfer on the "B" side)
Storyteller Yesterday (cream floral pattern reverse) by Crate Paper
MME Branches (teal and white dots reverse) from On The Bright Side
MME's On The Bright Side Stitched (denim reverse) - left over from July's Counterfeit Kit
Plain orange paper (manufacturer unknown)
Embellishments
Crate Paper Storyteller alpha and label stickers
Various ribbons, ric-rac, cord & string
MME Happy Days twine
Basic Grey fabric decorated brads
A selection of yellow, orange & brown buttons
Crocheted flowers
A selection of journalling blocks/tags from K&Co and Crate Paper
Kaisercraft December 25th (!) pearls
Sizzlit Mini Paper Rosette die
Tickets and a Sizzlit ticket die (not shown)
Various brads and bookplates (not shown)
I'm looking forward to using up some ribbons this month - it's been a while since I used a lot on my pages as I've been going through a machine stitching & button phase recently. Do you get stuck on a particular technique/type of embellishment?
Next on the kit tour is the lovely
Jen
who makes awesome kits full to bursting with gorgeousness! If you get lost along the way pop back to the
Counterfeit Kit Challenge Blog
for a full list of the hops!